An awesome Thanksgiving with easy desserts
The same struggle every year to find the best dessert recipes for Thanksgiving? Not anymore! We have selected a list of 12 easy Thanksgiving dessert recipes so you never have to worry or stress about it again. You'll rock on this festive day whether you're having family and friends over or you're hosting someone for the holiday.
Our list includes some of the most recognizable fall pies, like the inevitable pumpkin apple pie, as well as surprising Thanksgiving desserts that will make everyone say WOW. And of course, we haven't forgotten about a vegan Thanksgiving dessert option to accommodate any taste or diet and make everyone happy.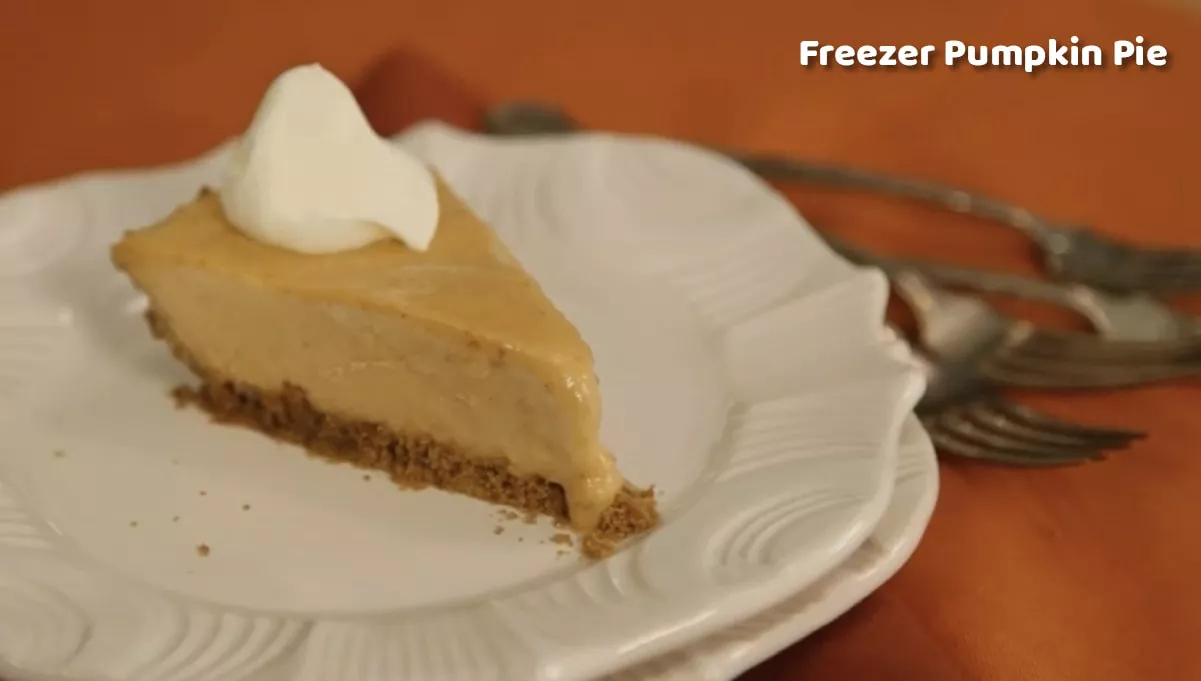 We start this list of easy Thanksgiving dessert recipes with an absolutely delicious frozen pie! Many people liked it better than regular pumpkin pie, so it probably deserves your chance. Plus, we shared the healthiest option for freezer pumpkin pie here: instead of regular vanilla ice cream, use nonfat vanilla frozen yogurt. Sounds like a cool tip. Give it a try and let us know how it turns out. Plus, the gingersnaps and pecans create a delicious baked crust for the pumpkin and ice cream filling.
PREPARATION TIME: 15 minutes
Ingredients
Crust
1 cup ground pecans
½ cup finely crushed gingersnaps
¼ cup sugar
¼ cup butter, softened
Filling
1 cup canned pumpkin
½ cup packed brown sugar
½teaspoon salt
½ teaspoon ground cinnamon
½ teaspoon ground ginger
¼ teaspoon ground nutmeg
1-quart vanilla ice cream, slightly softened
Whipped cream (optional)
Cooking Directions
In a bowl, combine the pecans, gingersnaps, sugar, and butter; mix well. Press into a 9

″

pie plate; bake at 450° for 5 minutes. Cool completely.
Using another bowl, beat the first 6 filling ingredients. Stir in ice cream and mix until well blended. Spoon into crust.
Freeze until firm, at least 2-3 hours. Store in the freezer. If desired, top with whipped cream and additional crushed gingersnaps.
Adapted from Eating Well.
2. Classic Apple Cranberry Crisp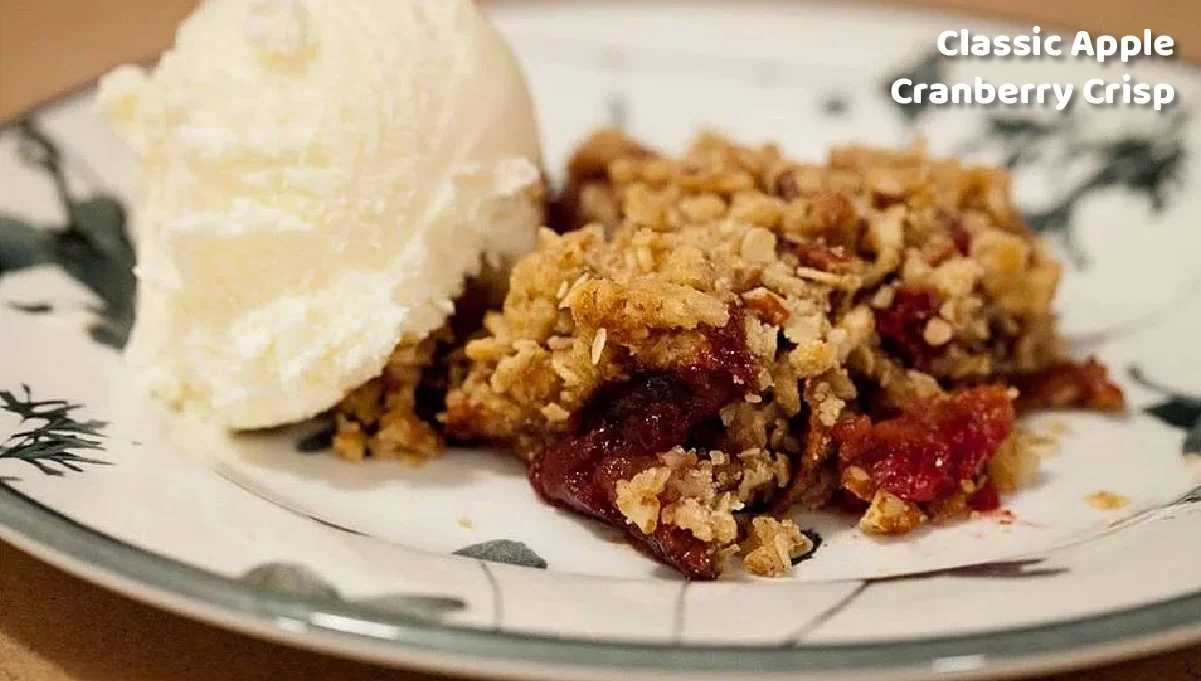 This is an acclaimed Thanksgiving dessert recipe that everyone will want to make and share with their clan. And it gets even better as it cools. In fact, you may want to serve it cold instead of reheating it before serving. You'll make everyone's mouth water with this super-tasty Thanksgiving dessert.
PREPARATION TIME: 10 minutes
Ingredients
2 pounds Granny Smith apples – peeled, cored, and thinly sliced (3-5 apples)
¾ cup cranberries
¼ cup white sugar
1 tablespoon ground cinnamon
1 teaspoon ground nutmeg
¼ cup and 1 tablespoon and 1 teaspoon quick-cooking oats
¼ cup and 1 tablespoon and 1 teaspoon all-purpose flour
½ cup packed light brown sugar
¼ cup butter, cut into pieces
½ cup chopped pecans
Cooking Directions
Preheat the oven to 375 degrees F (190 degrees C.) Butter an 8-inch square baking dish.
In a large bowl, mix together apples, cranberries, white sugar, cinnamon, and nutmeg. Place evenly into a baking dish.
Now, in the same bowl, combine oats, flour, and brown sugar. With a fork, mix in butter until crumbly. Stir in pecans. Sprinkle over apples.
Bake in a preheated oven for 40 to 50 minutes, or until the topping is golden brown, and the apples are tender.
Adapted from All Recipes.
3. Pumpkin Mousse Icebox Cake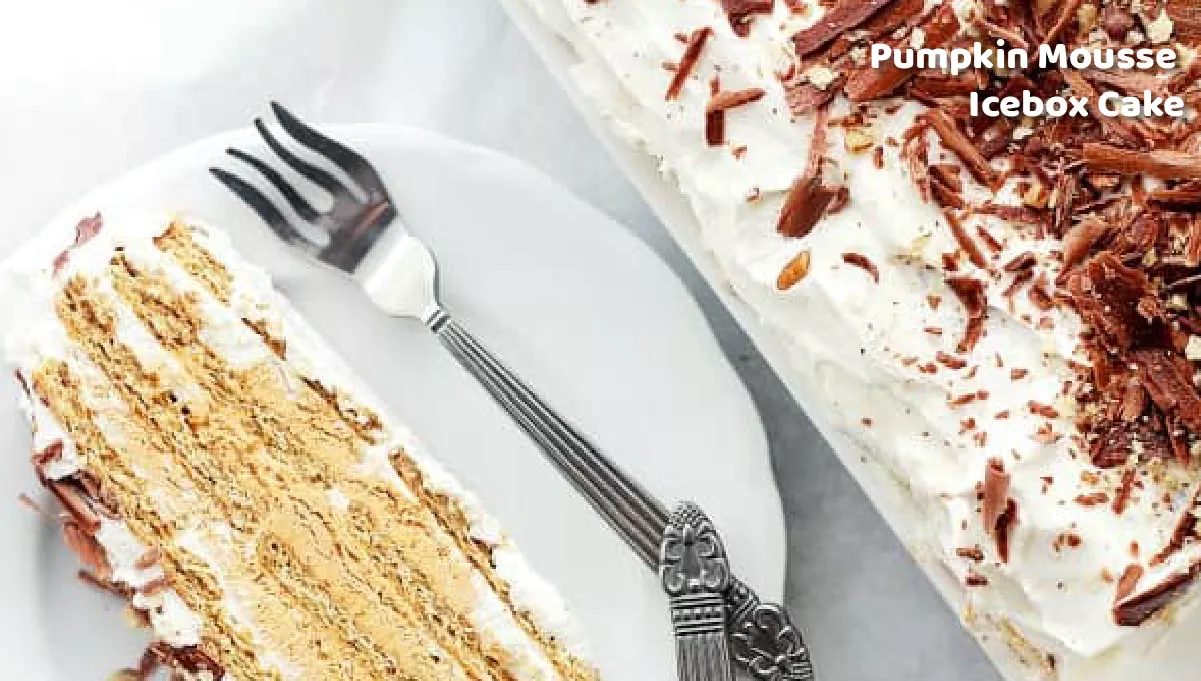 Another hit for the family. They will want you to make all their Thanksgiving desserts after they try this absolutely delicious and innovative Thanksgiving treat.
And the icing on the cake for you: it's an incredibly easy Thanksgiving dessert recipe! No-bake cake made with silky, sweet pumpkin mousse nestled between layers of graham crackers & vanilla whipped cream.
PREPARATION TIME: 30 minutes
Ingredients
For the pumpkin mousse
1 ½ cups pure pumpkin puree
4-ounces cream cheese, room temperature
½ cup light brown sugar
¼ teaspoon ground cinnamon

⅛

teaspoon pumpkin pie spice
pinch ground nutmeg
½ cup maple syrup
1 cup cold heavy cream
For the vanilla whipped cream
1 cup chilled heavy cream
2 teaspoons pure vanilla extract
1 tablespoon sugar
For the cake
2 to 3 sleeves graham crackers, whole
chocolate shavings
chopped pecans
Cooking Directions
Prepare the pumpkin mousse
In a food processor, combine pumpkin puree, cream cheese, light brown sugar, cinnamon, pumpkin pie spice, and nutmeg; process until smooth and thoroughly combined.
With the machine running, add maple syrup, and continue to process until combined. Set aside.
In your mixer's bowl, beat 1 cup heavy cream on high until stiff peaks form, 2 to 3 minutes.
Using a rubber spatula, gently fold the previously prepared pumpkin mixture into whipped cream.
Refrigerate until ready to use, or at least 30 minutes.
In the meantime, prepare the Whipped Cream
In your mixer's bowl combine heavy cream, vanilla, and sugar.
Beat mixture until stiff peaks form.
Refrigerate until ready to use.
Assemble
Spread a little whipped cream on the bottom of a long and narrow plate or in a 9×13 pan.
Place one single layer of 4 whole graham crackers over whipped cream.
Spread ⅓ of the vanilla whipped cream over graham crackers.
Spread ⅓ of the pumpkin mousse over whipped cream.
Place a single layer of 4 whole graham crackers over pumpkin mousse.
Continue to layer until you've used up all ingredients, ending with whipped cream to cover the entire cake.
Cover the pan with plastic wrap and place in the freezer for at least 6 hours or overnight.
Top with chocolate shavings and chopped pecans.
Cut and Serve.
Adapted from The Diet Hood.
4. Caramel Apple Cheesecake Trifle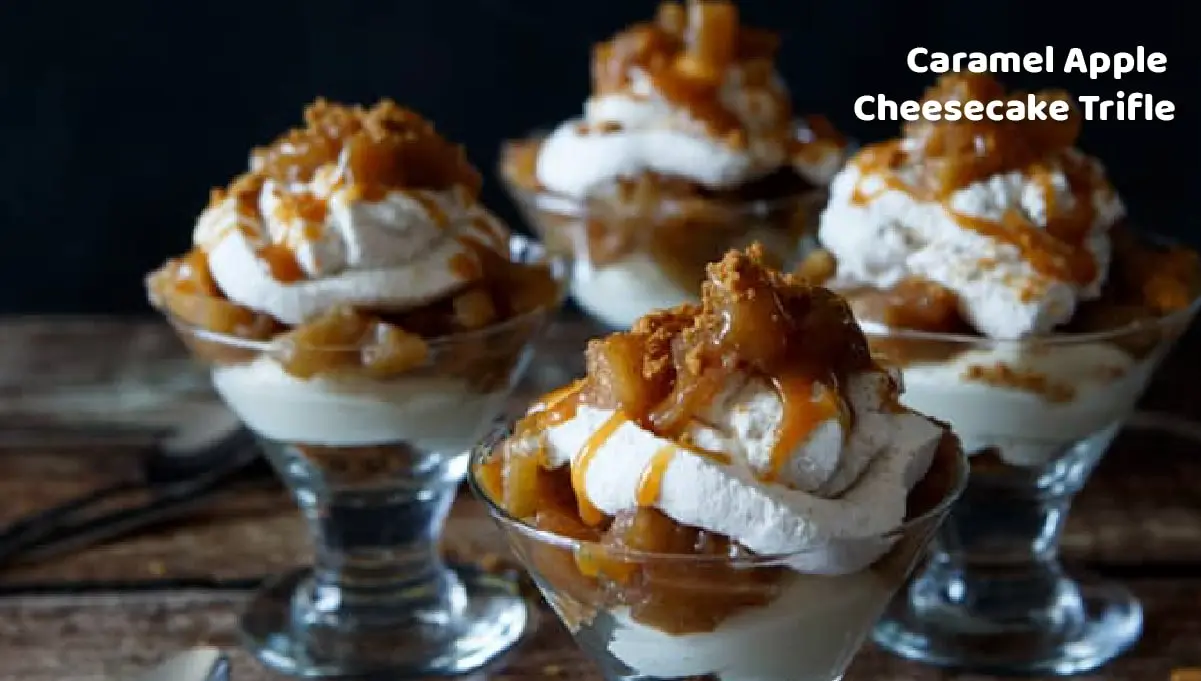 Definitely one of the best dessert recipes for Thanksgiving. Super easy. Super tasty. Super beautiful. And for that, it's a Thanksgiving recipe idea worth sharing with you. Try it and see how your clan reacts. This is a must-try for those who have a weakness for apple desserts.
PREPARATION TIME: 35 minutes
Ingredients
For the Apple Layer
4 apples, finely chopped
4 tablespoons unsalted butter, softened
½ cup lightly packed brown sugar
½ teaspoon cinnamon
For the cinnamon whipped cream
2 cups heavy cream
1 teaspoon vanilla
⅔ cup powdered sugar
Cinnamon
For the cheesecake layer
4 ounces cream cheese, softened
4 ounces mascarpone cheese, softened

¼

cup sugar
½ teaspoon vanilla
¾ cup whipped cream
For the assembly of trifle
Biscoff cookies (or Nilla Wafers/Graham Crackers), crushed
Good-quality caramel sauce topping (or make your own!)
Sea salt
Cooking Directions
Apple Layer
In a large skillet, melt butter over medium heat. 2.
Add the apples, brown sugar, and cinnamon, and stir until well combined. Cook, stirring occasionally, for about 10-15 minutes, until the apples are tender and the brown sugar creates a thick glaze.
Cinnamon whipped cream
In the bowl of your stand mixer or in a medium mixing bowl fitted with an electric hand mixer, beat the cream, sugar, and vanilla on medium/medium-high speed until stiff peaks form. Do not overbeat. Reserve

¾

cup of whipped cream for the cheesecake layer. With the rest of the whipped cream, gently fold in

½

teaspoon cinnamon and taste. Add more cinnamon if desired.
Cheesecake layer
In the bowl of your stand mixer or in a medium mixing bowl fitted with an electric hand mixer, whip together the cream cheese, mascarpone, sugar, and vanilla extract until light and fluffy.
Gently fold in the whipped cream by hand.
When ready to assemble the trifle
Remove apples from the fridge and let them come closer to room temperature (Give them a quick zap in the microwave to speed up that process).
Stir some sea salt into caramel to give it the desired salted caramel flavor.
Alternate layers of crushed biscoff cookies, cheesecake layer, apples, cinnamon whipped cream, and salted caramel. Devour immediately.
Pay attention to these tips:
It's important to cut the apples into very fine dice, as bigger chunks of apples will take a lot longer to cook. Instead of using the stovetop, you could cook in a 375°F oven, stirring once or twice, until the apples are tender.
We would choose to serve the trifles in little mini serving cups. The yield of the recipe depends upon the size of those serving cups. You could also make it in one big dish for a family-style dessert.
Adapted from Shared Appetite.
5. Vegan Cranberry Pear Tart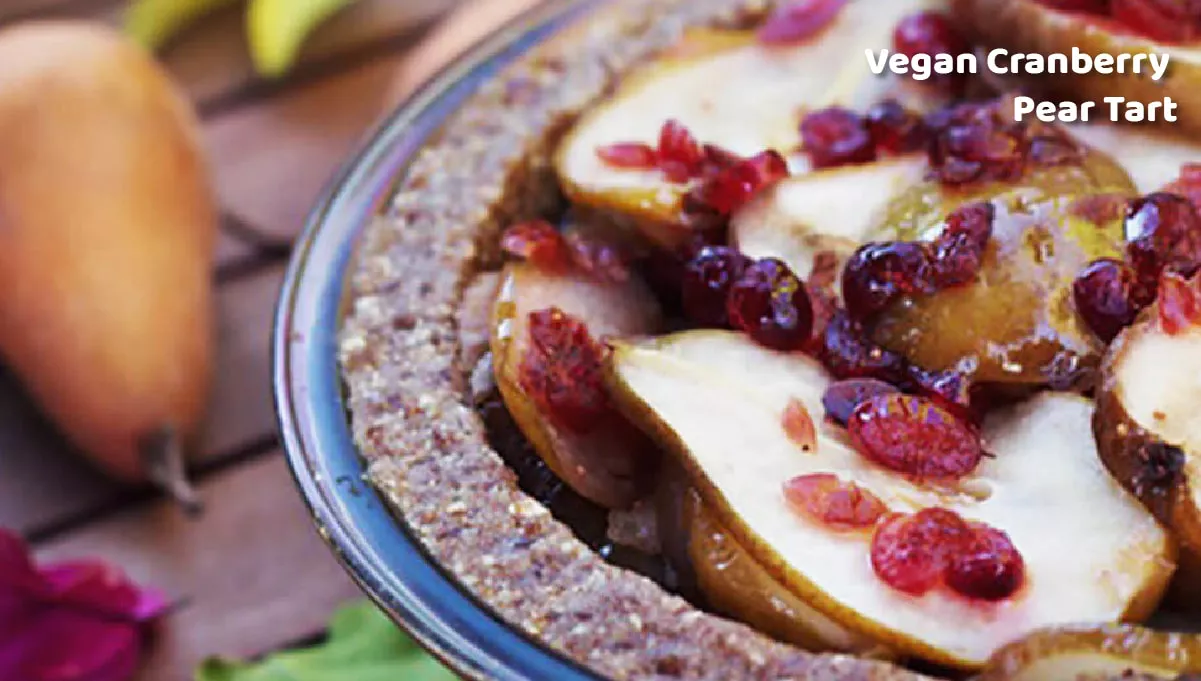 Here it is. A vegan Thanksgiving dessert recipe that will make you cry for more. One of the benefits is that you can often reuse the crust part for other pies/desserts as it's a great alternative for gluten intolerant people. Another positive aspect is that it is a healthy and tasty dessert! How is that possible?!
PREPARATION TIME: 25 minutes
BAKE TIME: 10 minutes
Ingredients
Crust
2½ cups walnuts or pecans, toasted for 8 minutes in a 350º oven

1 cup Medjool dates, pitted

½ teaspoon cinnamon

sea salt to taste
Filling
3 ripe pears, thinly sliced

¼ teaspoon cinnamon

¼ teaspoon nutmeg

½ cup maple syrup

¼ cup apple cider

¼ cup dried cranberries
Cooking Directions
Combine the walnuts, dates, cinnamon, and salt in the bowl of a food processor and process until the mixture is well combined but not completely smooth. Press it into the bottom and up the sides of a nine-inch non-stick tart pan and refrigerate while you make the filling.
Now the filling. Place the pears, cinnamon, nutmeg, maple syrup, apple cider, and dried cranberries in a saucepan and cook over medium heat until the pears are tender, for about 10 minutes.
Remove the pears and cranberries with a slotted spoon to a bowl and set them aside.
Return the pan to heat and cook the remaining liquid in the pan until it is reduced by half.
Spread the fruit over the tart crust and pour the reduced liquid over it.
Refrigerate until ready to serve.
Adapted from Forks over Knives.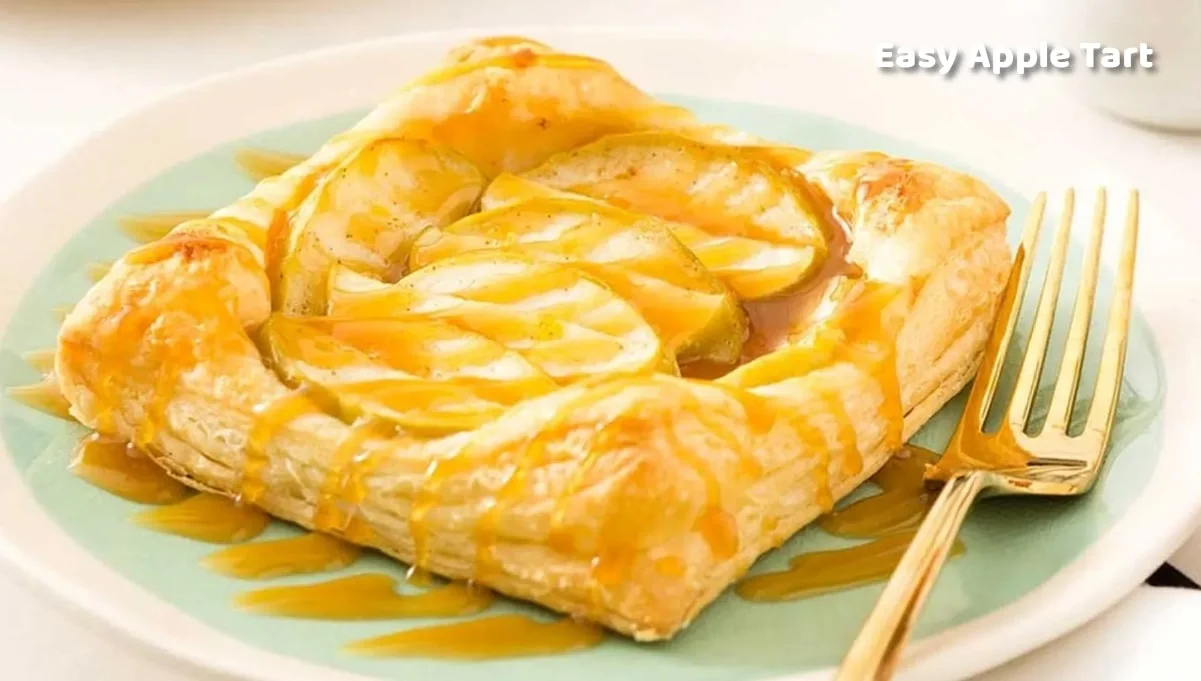 Many people still haven't tried this kind of Thanksgiving dessert yet but it is really worth a try. This crunchy and super scrumptious dessert is sure to win over everyone at home. You can top it with a little vanilla ice cream and some cinnamon.
PREPARATION TIME: 30 minutes
BAKE TIME: 16-18 minutes
TOTAL TIME: 45-50 minutes
SERVINGS: 6
Ingredients
2 sheets frozen puff pastry, defrosted
6 Granny Smith apples
2 lemons

½

 cup granulated sugar
1 teaspoon cinnamon
1 stick salted butter
caramel sauce, for topping
Cooking Directions
Preheat the oven to 425 degrees Fahrenheit
Cut apples into thin slices and add to a large bowl
Zest and juice the lemons into the bowl
Add the granulated sugar and cinnamon
Stir to combine
Line a baking sheet with parchment paper
Unroll the puff pastry and cut the sheet into four pieces and place on a baking sheet
Arrange 10-12 apple slices on each square of puff pastry. Be sure to leave a 1/2-inch border of dough on all sides!
Top the apples with a few pieces of butter
Bake for 16-18 minutes, until puffed and golden brown
Top with caramel sauce
Adapted from Brit + Co.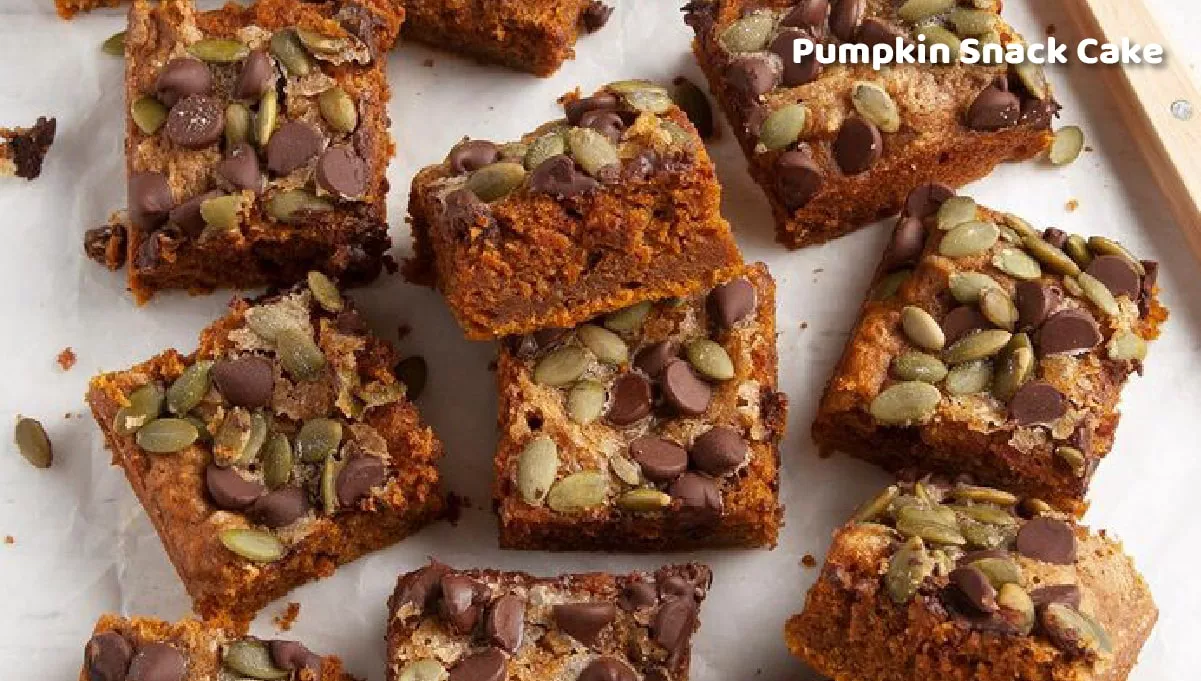 Superb! This crunchy and easy-to-prepare Thanksgiving snack truly deserves its place on the list. It's an excellent choice for pumpkin dessert lovers, but it always wins the hearts of everyone. The pie is very moist and flavorful, perfect for this time of year, and you can opt for alternatives in the frosting, making it very adaptable to all tastes.
PREPARATION TIME: 15 minutes
BAKE TIME: 25 minutes + cooling
TOTAL TIME: 40-45 minutes
SERVINGS: 16
Ingredients
¼ cup butter, softened
¾ cup sugar
1 large egg, room temperature
1 cup all-purpose flour
1 tablespoon baking cocoa

½

teaspoon baking soda

½

teaspoon ground cinnamon
1 cup canned pumpkin
Topping
½ cup semisweet chocolate chips
½ cup salted pumpkin seeds or pepitas
1 tablespoon sugar
Cooking Directions
Preheat the oven to 350°.
In a large bowl, cream butter and sugar. Beat in egg.
Combine the flour, cocoa, baking soda, and cinnamon; gradually add to the creamed mixture and mix well. Stir in pumpkin.
Pour into a greased 8-in. square baking pan.
Combine topping ingredients; sprinkle over batter.
Bake until a toothpick inserted in the center comes out clean, about 25 minutes.
Cool in a pan on a wire rack.
Adapted from The Taste of Home.
8. Crustless Cranberry Pie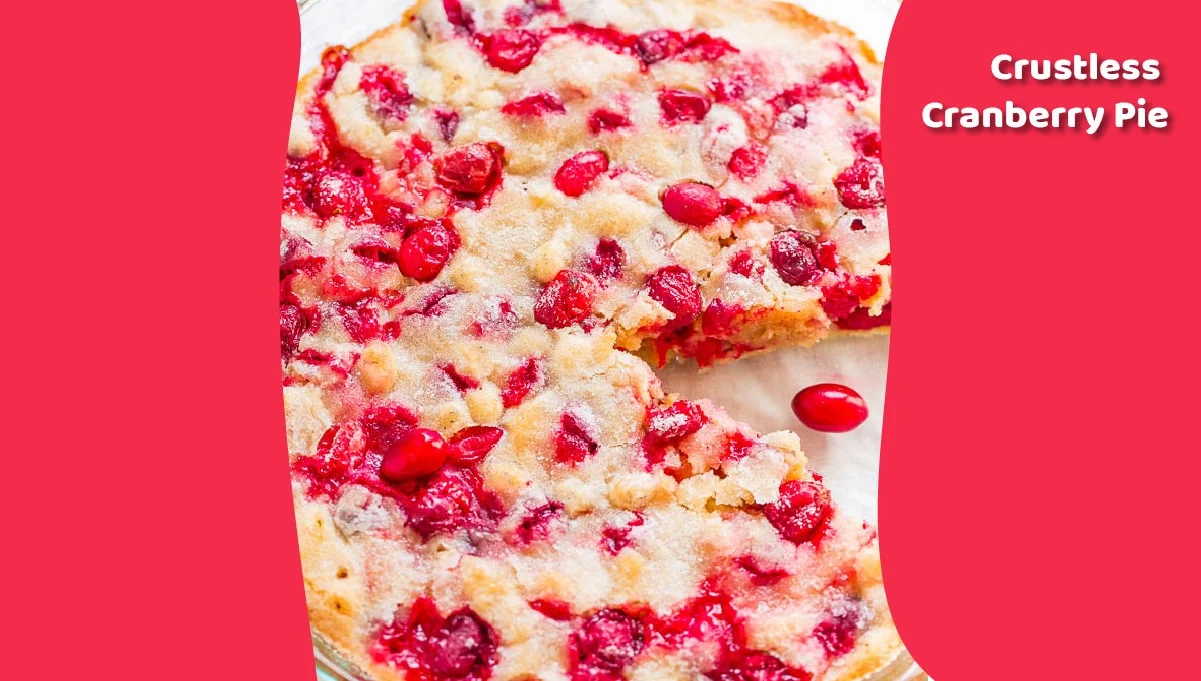 This could easily become your favorite choice. And why is that? First, because it is a super easy, no-mix Thanksgiving dessert, making it perfect for last-minute dessert preparations. Second, it is perfect for those who really hate making the pie crust. Plus, the carbs from the pie crust are saved for other sweet and delicious Thanksgiving desserts.
PREPARATION TIME: 5 minutes
BAKE TIME: 35 minutes + cooling
TOTAL TIME: 1 hour 10 minutes
SERVINGS: 8-10
Ingredients
1 cup canned pumpkin
1 cup plus 2 tablespoons granulated sugar, divided
1 cup all-purpose flour
1 teaspoon cinnamon

½

teaspoon allspice
¼ teaspoon salt
½ cup (1 stick) unsalted butter, melted
2 large eggs
1 teaspoon vanilla extract, or to taste
½ to 1 teaspoon almond extract, or to taste
2 cups plus ¼ cup fresh cranberries, divided (we have only made with fresh and cannot comment on using frozen)
Cooking Directions
Whisk the dry ingredients together in a large mixing bowl. In a separate bowl, melt the butter before stirring in the remaining wet ingredients. Add the wet ingredients to the dry and stir until just combined.
Fold in the cranberries, then turn the batter into a greased pie plate. Sprinkle additional fresh cranberries and sugar on top, then bake until the edges are set and a toothpick inserted in the center comes out clean.
Preheat the oven to 350F. Spray a 9-inch round pie dish very well with cooking spray; set aside. You can use a glass pie dish; baking times may vary if using metal.
To a large bowl, add 1 cup sugar, flour, cinnamon, allspice, salt, and whisk to combine; set aside.
To a medium microwave-safe bowl, add the butter and heat on high power to melt, about 45 seconds. Wait momentarily before adding the eggs so you don't scramble them.
Add the eggs, extracts, and whisk to combine.
Pour the wet mixture over the dry and stir to combine; don't overmix.
Add 2 cups cranberries and stir to combine; the batter is very thick.
Turn the mixture out into a prepared pie dish, smoothing the top lightly with a spatula.
Evenly sprinkle ¼ cup cranberries over the top.
Now, evenly sprinkle 2 tablespoons of sugar over the top and bake for about 34 to 38 minutes, or until edges are set and a toothpick inserted in the center comes out clean or with a few moist crumbs but no batter. If you underbake slightly (33-34 minutes), you can get a more gooey center but it's personal preference and since all ovens, climates, and berries vary, watch your pie and not the clock.
Allow pie to cool in the pie dish on a wire rack before slicing and serving.
Optionally serve with whipped topping or ice cream. The pie will keep airtight at room temp for up to 5 days.
Adapted from Averie Cooks The Taste of Home.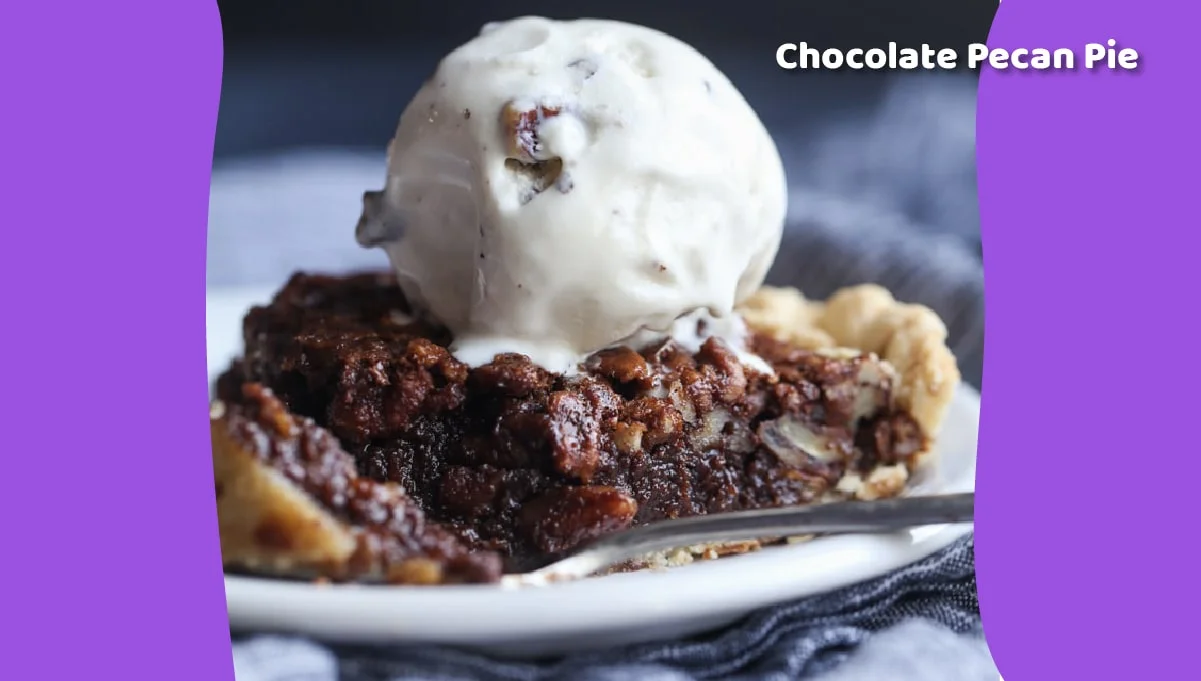 Another super easy Thanksgiving dessert recipe idea but this time using melted chocolate. The classic pecan pie turned into a rich pudding-like texture. Just yummy. You can create the pie crust by yourself following this amazing recipe or you can take a shortcut and use a pre-made crust. Additionally, being a kid-friendly Thanksgiving recipe dessert is the perfect choice to get some handy helpers and consequently provides a very fun and educational family moment for your little ones.
PREPARATION TIME: 10 minutes
BAKE TIME: 60 minutes
TOTAL TIME: 1 hour 10 minutes
SERVINGS: 10
Ingredients
4 tablespoons butter
3 ounces chopped semi-sweet chocolate
2/3 cup Light Dark Corn Syrup
3 eggs, lightly whisked

½

cup light brown sugar
1 tablespoon unsweetened cocoa powder

½

teaspoon kosher salt
1 tablespoon pure vanilla extract
2 cups coarsely chopped pecans
1 (9-inch) unbaked OR frozen deep-dish pie crust
Cooking Directions
Preheat the oven to 350°F.
In a small saucepan melt the butter and chocolate over medium-low heat until melted, stirring frequently. Remove from heat and allow to cool slightly.
In a large bowl, mix together corn syrup, eggs, brown sugar, cocoa powder, salt, and vanilla until smooth. Stir in the melted chocolate and pecans until combined.
Pour mixture into pie crust.
Bake on the center rack of the oven for 60 to 70 minutes.
Cool for at least 2 hours on a wire rack before serving.
Tip
If you are using a prepared frozen pie crust, place the cookie sheet in the oven and preheat the oven as directed. Pour filling into frozen crust and bake on a preheated cookie sheet. The pie is done when the center reaches 200°F. Tap the center surface of the pie lightly – it should spring back when done. If pie crust is over-browning, cover edges with foil.
Adapted from Cookies and Cups.
10. White Chocolate Cranberry Ice Cream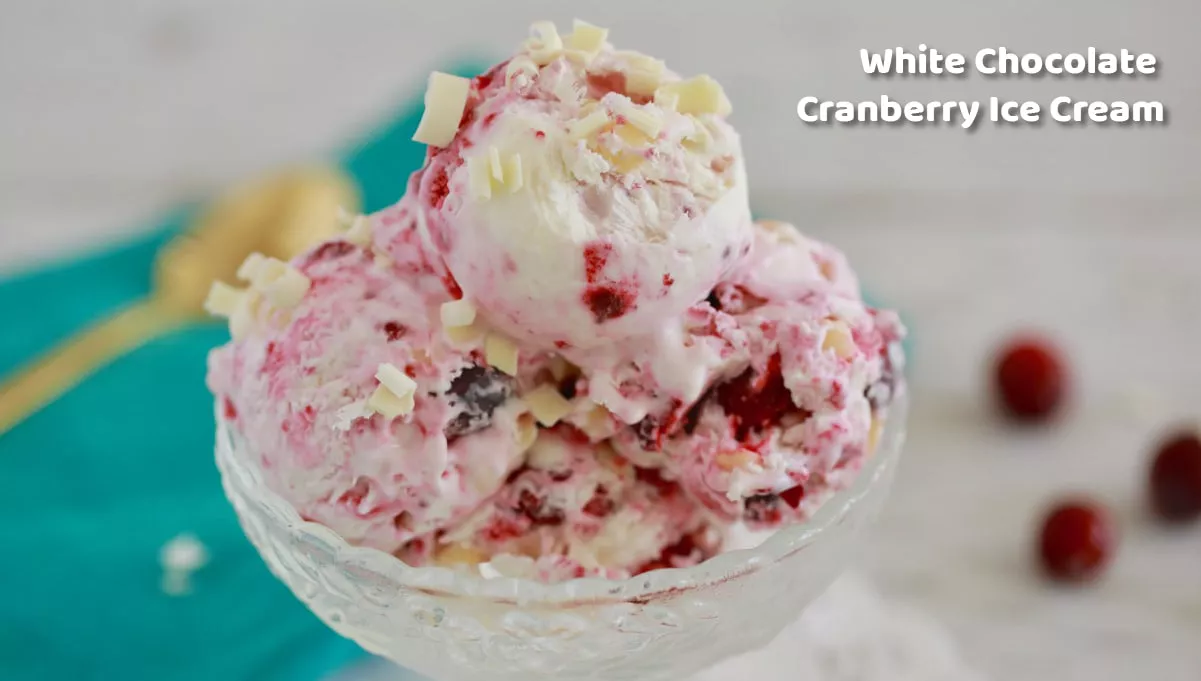 An ice cream choice for Thanksgiving desserts ideas. Why not? Besides super fresh and tasty White Chocolate and Cranberry Ice Cream dessert is the perfect, easy no-machine ice cream recipe for your Thanksgiving or even Christmas dessert. Moreover, is another child-friendly recipe idea for Thanksgiving, bringing kids into the holiday festive spirit.
Just takes 10 minutes to prepare but you need to freeze it. Therefore we recommend you do it the day before in order to freeze it overnight.
PREPARATION TIME: 10 minutes
BAKE TIME: Freeze overnight
TOTAL TIME: 10 minutes + freezing
SERVINGS: 4-8
Ingredients
1 x 14 ounce (1 Can/ 400ml) sweetened condensed milk, cold
2 cups (16oz/450ml) heavy fresh dairy cream, cold
1 teaspoons vanilla extract (optional)
1

½

cup (15oz/425g) cranberry sauce

½

cup ( 3oz/85g) white chocolate chips
Cooking Directions
Beat cold heavy fresh dairy cream on medium in a stand mixer fitted with the whisk attachment (or using a hand mixer) until stiff peaks form.
Turn down the speed a little and pour the condensed milk into the whipped cream. (Stir in vanilla extract now if desired).
Then, turn up the machine speed again and whip until your mixture is thick and too stiff peaks.
Now you have your ice cream base added in your white chocolate chips and cranberry sauce. Fold until the desired color is reached (we recommend a streaky pink color)
Freeze at least 4 hours or overnight before scooping and serving.
Adapted from Gemma's Bigger Bolder Baking.
11. Turkey Handprint Cookies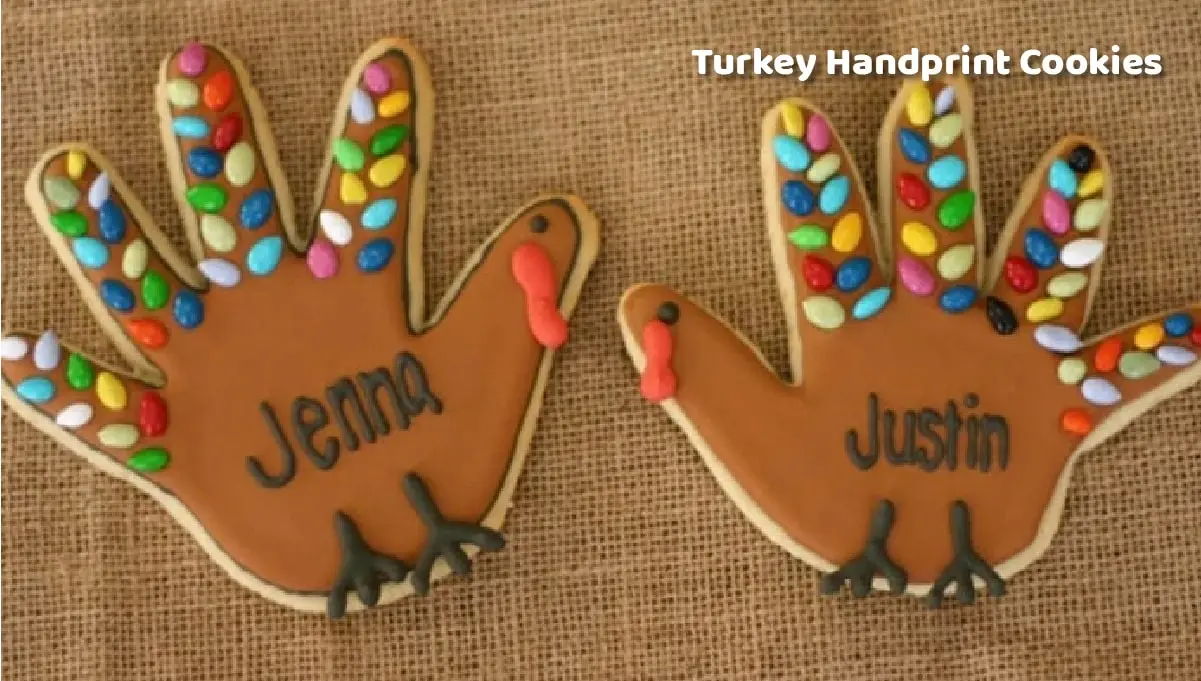 It's cookie baking season, and kids love it. In fact, this Thanksgiving recipe idea was created with children in mind. In fact, they have a lot of fun making these beautiful and personalized turkey cookies.
PREPARATION TIME: 5 hours
DECORATION TIME: 30 minutes
TOTAL TIME: 5 hours 30 minutes
Ingredients
cardstock
pencil or pen
scissors
sugar cookie dough, try our favorite homemade sugar cookie recipe, or you can use store-bought dough
rolling pin
knife
baking sheet with a non-stick liner
icing or frosting, use a royal icing recipe with helpful tips or purchase your favorite
water, to thin out the royal icing
toothpicks
parchment paper
chocolate covered sunflower seeds
Cooking Directions
Using a pen or pencil, trace your child's hand onto a piece of cardstock. (If you have different sized hands in your house, it's fun to make different sizes.)
Cut each hand out.
Roll out your sugar cookie dough, place the cardstock hands on top of the dough to use as a guide, and cut them out with a knife.
Carefully transfer to a baking sheet. If there are any rough edges, just pat them down.
Bake, let cool, then carefully transfer to your counter where you can start to decorate them. (Try not to have any finger casualties.)
Outline the handprint cookies in black or brown icing. NOTE – The icing for the outline, feet, gobbler and name should be thicker than the fill icing.
Fill each handprint cookie with the thinner brown frosting. (Just add a touch more water to the thick stuff you made.)
Pop the bubbles with a toothpick right away when it's still really wet.
Make some feet and gobblers with icing on a piece of parchment paper.
After your fill frosting has been set up a tiny bit, add sunflower seed feathers. If you add these too soon, they will fall into the frosting and get swallowed up. But don't wait too long so that the icing cracks when you push these on.
Using black icing, write the name and add an eye. Glue your dried gobbler on with a dot of frosting.
With dots of frosting, put the legs on last. They are fragile and if you try to do other decorating after you put them on, your hand might break them.
Adapted from Somewhat Simple.
12. Easy Thanksgiving Turkey Cookies Recipe
Another great and easy-to-prepare Thanksgiving cookie recipe idea that you can make with your tots. Made with cookie dough, mini Reese's Peanut Butter Cups, M&Ms and candy corn, these Thanksgiving turkey cookies will bring flavor and a festive feeling to the occasion.
PREPARATION TIME: 5 minutes
BAKE TIME: 10 minutes
COOL + DECORATION TIME: 45 minutes
TOTAL TIME: 1 hour
SERVINGS: 20-24
Ingredients
16 oz Pillsbury premade Sugar Cookie Dough, raw (usually can be found near tube biscuits, cinnamon rolls, butter, and dairy products)
24 mini Reese's Peanut Butter Cups
48 candy eyes
24 Red or Orange M&Ms or Reese's Pieces
Candy Corns (100-125 pieces)
Chocolate, melted
Cooking Directions
Preheat the oven to 350 degrees.
Grease 24 ct MINI muffin tin
Divide cookie dough into 24 equal pieces. Place one cookie dough piece in each muffin tin cup.
Bake for 9-11 minutes or until the dough is done. Centers of cookies will cave in slightly-this is normal.
Let cookies cool for 3-5 minutes, then remove from the pan.
Once removed, gently press a mini peanut butter cup in the center.
Let cool fully.
When cooled, add decoration using melted chocolate (candy eyes, red or orange gobble, candy corn feathers).
Tip
If in a hurry, once you've put Reese's peanut butter cups into the center of the cookies you can place them in the freezer to cool more quickly.
Adapted from Kitchen Cents.
Time to enjoy the tastiest Thanksgiving ever!
After all, if you have time to cook and bake delicious desserts, but no time to enjoy the holiday with your loved ones, what is the point?
Thinking of you and your family, we selected these 12 quick and easy Thanksgiving dessert ideas to help you save time, body and mind.
And to keep your little ones entertained while you're busy in the kitchen, let them have a moment with KidsBeeTV's special Thanksgiving episodes, stories and games. A special selection to celebrate the true essence of Thanksgiving – love, gratitude and togetherness!
That being said, let's cook and bake! It's party time and we can smell your kitchen from here.
Don't forget to share these lists with your friends and family. They might be able to get their hands dirty and offer you a treat 😉